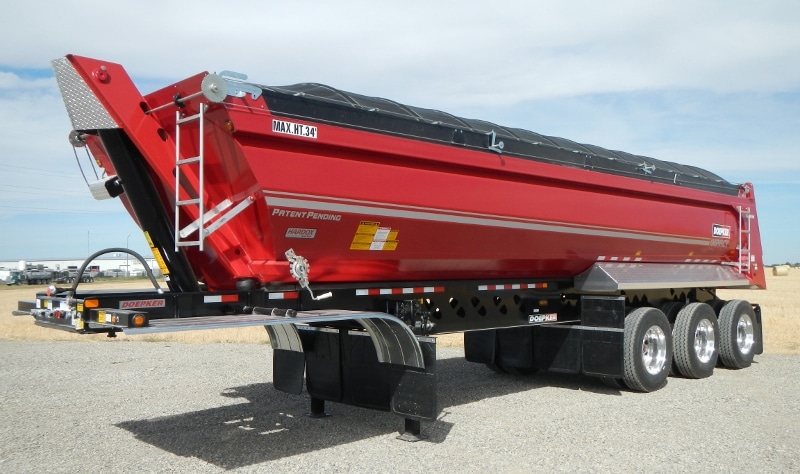 IMPACT END DUMP
When Doepker introduced our "patent pending" Impact gravel end dump design in 2009, it was the first time our market had seen anything like it. Strongest, lightest, most stable, multi-purposed, and highest resale in its class is what you receive when you invest in our Impact gravel trailer. Available in a tridem or tandem, this highly engineered design offers Hardox as the standard tub material integrated with our special tapered tub design that offers superior clean out. The Impact end dump gravel trailer gives you the ability to move your tub back and forth on the frame to adjust rear tub overhang. This gives you the flexibility to haul asphalt into a paver or allows you to increase wheelbase to provide the ultimate payload on all of your axle groups when stock piling aggregates or hauling contaminiated soil. Visit your local dealer to view and discuss all of the great and numerous Doepker advantages and options on this industry changing gravel trailer.
STANDARD FEATURES

Length
Tandem – 26′ 9″
Tridem – 34′
Overall Width
8 1/2′
Tub Wall Height
51 1/2″
Capacity
Tandem – 33.7 Cubic Yards with 8″ Side Boards
Tridem – 40 Cubic Yards with 8″ Side Boards
Tare Weight
Tandem – 13200 Lbs
Tridem – 16550 Lbs
GVWR
Tandem – 35000 Kgs
Tridem – 37500 Kgs
Landing Gear
Jost Magnum 2 Speed Landing Gear
Optional: Extendable Drop Leg Landing Gear
King Pin
Tandem – Set at 28″ – 1/4″ Coupler Plate
Tridem – Set at 16″ – 1/4″ Coupler Plate
Main Beams
Web:
Flange:
Tub
4mm Hardox 450 Wall and Floor
Tapered Tub Design (Longitudinal Bends) For Maximum Strength, Weight, and Best Cleanout
D Shaped Tub
"Quick Adjust" Box Locations Including "Paving Equipment" Setting
Ultra Stable Design
Optional: Aluminum Checkerplate Installed on Front Panel
Cylinder
Tandem: HYVA FEE 8-5-243
Tridem: HYVA FEE 9-5-269
1″ Female Quick Coupler at Front of Trailer
Optional: 1″ Male or Female Winged Coupler at Front of Trailer
Optional: Pressure Relief Valve
Ladders
Ladder at back on D/S
Optional: Additional Ladder Installed at Front of Trailer on D/S
Back of Trailer
Push/Pull Brackets
Standard End Gate
Optional: Sealed End Gate
Side Boards
8″ Fir Side Boards
Optional: 10″ Fir Side Boards
Air System
Aluminum Air Tanks
Inline Air Filtration System Built into Glad hands
Tires
Michelin or BF Goodrich
Rims
Various Steel and Aluminum Options
Serial Plate(s)
Canada
Safety Certified
Yes

PAINT AND FINISH

Blast Preparation
Completely Steel Shot Blasted
Special Coatings
Pure Zinc on Complete Steel Outside
Primer
PPG Epoxy Primer Inside and Out
Top Coat
PPG Urethane / Acrycote Systems – All Colors Available
Professional Cure System
Entire Trailer put in Heat Ovens for Optimal Paint Adhesion and Cure
Safety
Reflective Tape
Sealing Systems
Silicone on Inside Wall Seams / Slope Sheet Seams

SUSPENSION

System
Hendrickson Intraax AAT 25K LDA14″ Air Ride 25000 Lbs with Cam Tube Enclosures
Optional: Hendrickson HT300 – 15″ Air Ride with Cam Tube Enclosures, with Axles Rotated so Brake Pots are Front and Up
Optional: Doepker Auto Lift Management System with Meritor Control Valve (Tridem Model Only)
Optional: Truckweight Wireless Scale System
Wheel Seals
Stemco Guardian
Brakes
Abex 16 1/2″ x 7″ Extended Life
AntiLock Braking
Meritor Wabco 2S1M (2 Sensors / 1 Modulator)
Optional: 2S2M (2 Sensors / 2 Modulators)
Optional: 4S2M (4 Sensors / 2 Modulators)
Axle Spread
49″ Tandem – 77 1/2″ Track Width
60″ Tridem – 77 1/2″ Track Width
Auto Slack Adjusters
Gunite
Spring Brake Pots
30/30 TSE Omnibrake
Wheel End
Cast Hub and Drum
Optional: Duralight Hub and Centrifuse Drum Combinations
Optional: Hubodometer – Metric or Imperial

TARP

Tarp
Michel's Gravel Guard – Vinyl, Mesh or Neoprene
Tarp Openers
Manual Chain Drive
Optional: Electric Drive with Manual Chain Drive Backup
Hoops
12″ Standard Tarp Hoops
Optional: 18″ High Rise Tarp Hoops

LIGHTING

Wiring Harness
Severe Duty Sealed Harness System
Custom Designed by Trucklite for our Light Packages
Lighting
Trucklite LED as per CMVSS with Side Signals

PROTECTIVE FEATURES

Mudflaps
Doepker Mudflaps at Rear
Full Width at Landing Gear
Full Width in Front of Suspension
Full Width at Back
Fenders
Galvanized Flat Fenders at Front
Aluminum Checkerplate Fenders at Back
Optional: 166 Degree 1/2 Round Fenders at Back – Galvanized, Stainless Steel or Minimizer Poly
Placard Holders
Optional: On Each Side
Spare Tire Carrier
Optional: C/S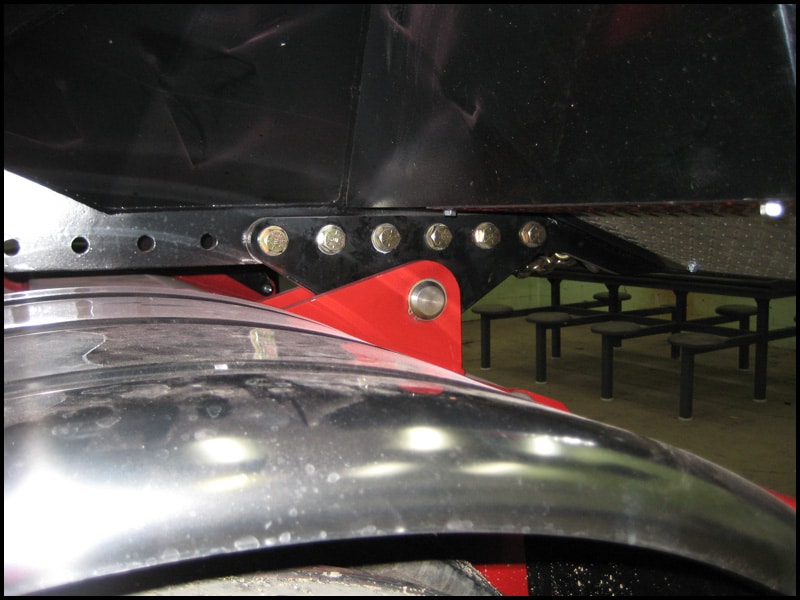 ADJUSTABLE BOX
Change your hingepoint to best match your application.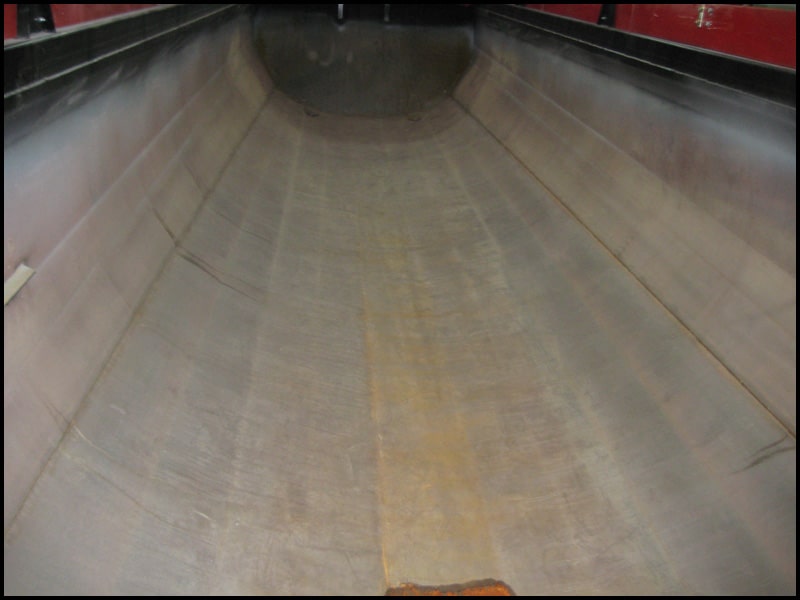 TAPERED TUB DESIGN
Our tapered tub design limits the number of places product can hang up helping optimize cleanout.
WIDER & STRONGER FRAME
Our frame is wider than most in the industry improving the stability of the trailer.