LEGACY OPEN END SUPER B GRAIN TRAILER
LEGACY OPEN END SUPER B GRAIN TRAILER
The Doepker Legacy is the lightest and strongest aluminum Super B grain trailer on market.  Our Doepker designed Uni-Link system offers innovative, cutting edge technology that gives strength never seen before on an aluminum trailer.  Our exclusive 1-piece aluminum double wall slope uses a minimal amount of rivets and has no horizontal seams or rivets giving unmatchable cleanout.  The smooth double-wall aluminum design gives the best of both worlds: an aerodynamic outer skin complimenting optimal inside cleanout.  Our "first to market" open end dual aluminum wall design allows you to easily clean and maintain the suspension and slope area from road contaminants that will ensure the Legacy is the longest lasting trailer on the road.  Couple this to massive curb appeal in combination of its ability to carry the largest payload makes the Legacy irresistible.  Visit your local dealer to view and discuss all of the great and numerous Doepker advantages and options on this grain trailer.
STANDARD FEATURES

Length
27'10" Lead; 30'9″ Rear
Capacity
Lead Approx 1440 Cu Ft; Rear Approx 1575 Cu Ft
Tare Weight
Approx 19,500 Lbs with Standard Equipment
GVWR
Lead 35000 Kg; Rear 35000 Kg
Landing Gear
Jost Aluminum 2 Speed Sealed Unit
King Pin
Lead Set at 30″ with 1/4″ Coupler Plate
Rear Set at 18″ with 1/4″ Coupler Plate
Catwalks & Ladders
Aluminum on Inside and Outside
Walls
Double Aluminum Skins with Aluminum Uprights Between Skins
82″ Overall – 144″ to Top of Tarp Hood
Hoppers
10 Gauge Aluminum; Rack & Pinion Chutes
19″ X 20″ Openings; 22″ Ground Clearance on 22.5 Tires
Double Hopper Bands
Chute Lids
Self Cleaning, Opens Past Hopper, Quick Detach
Chute Cranks
D/S and C/S
Optional: D/S only
Slopes & End Walls
One-Piece 14 Gauge Plain Aluminum Double Wall Slopesheet – 28 Degree at Front of Lead and Rear and at Back of Rear, 42 Degree at Back of Lead
End Wall Panels – 12 Gauge at Front of Lead and Back of rear with 10 Guage at Back of Lead and Front of Rear Trailer
Air System
Aluminum Air Tanks
Inline Air Filtration System Built into Glad hands
Air Gauge Box with Window
Optional: Air Chuck in Air Gauge Box
Optional: Relocate Air Gauge Box From Back of Rear Trailer to Front of Rear Trailer
Tow Hooks
At Back of Rear Trailer
Tires
Michelin
Rims
22.5 or 24.5: Various Steel and Aluminum Options
Serial Plate(s)
Canada / U.S
Safety Certified
Yes

PAINT AND FINISH

Blast Preparation
Fully Steel Shot Blasted on All Steel Sections
Special Coatings
Pure Zinc on Complete Steel
Duraguard
Full Duraguard on Upper 5th and Suspension
Primer
PPG Epoxy Primer Inside and Out
Top Coat
PPG Urethane / Acrycote Systems – All Colours Available
Paint Cure System
Entire Trailer put in Heat Ovens for Optimal Paint Adhesion
Wall Panel Colour
Pre-painted White with "Legacy" Decal in Black Letters
Optional: Pre-painted Black with "Legacy" Decal in Silver Letters
Optional: Pre-painted Medium Charcoal Metallic with "Legacy" Decal in Silver Letters
Optional: Pre-painted Light Silver Metallic with "Legacy" Decal in Black Letters
Safety
Reflective Tape
Sealing Systems
Silicone on Inside Wall Seams / Slope Sheet Seams

SUSPENSION

System
Hendrickson Intraax AANT 23K LDA 15″ Air Ride – HXL5 Hendrickson Long Life Dressed Axle
Optional: Hendrickson TireMax Inflation System
Optional: Doepker Auto Lift Management System with Meritor Control Valve
Optional: Truckweight Wireless Scale System
Wheel Seals
Federal Mogul
Brakes
16 1/2″ X 7″ Extended Life
Optional: Bendix Air Disc Brakes
AntiLock Braking
Meritor Wabco 2S2M on Lead, 2S1M on Rear
Optional: 4S2M Lead
Optional: 2S2M or 4S2M on Rear
Axle Spread
Lead – 60″ Tridem, Rear – 49″ Tandem, 77 1/2″ Track Width
Auto Slack Adjusters
Gunite
Spring Brake Pots
30/30 TSE Omnibrake
Optional: TSE Ultra-Life
5th Wheel
Jost Lower 5th Wheel Plate on Rear Trailer
Optional: Doepker Lower Oscillating 5th Wheel
Wheel End
Duralight Hub with Centrifuse Drum
Optional: Cast Hub & Drum
Optional: Hubodometer – Metric or Imperial

TARP

Tarp
Michels Side Rolling: Select or Maximizer
Tarp Openers
Short Cranks at Center
Optional: Electric Opener System
Other Options
Quick Release Tarp Stops; 100% Heat Sealed Instead of Sewn
Environmental Design (Single or Double Tarps)

LIGHTING

Wiring Harness
Severe Duty Sealed Harness System
Custom Designed by Trucklite for our Light Packages
Lighting
Trucklite LED as per CMVSS with Side Signals
Optional: Various Custom Packages and Designs Available

PROTECTIVE FEATURES

Mudflaps
Full Width at Landing Gear, Ahead of Brake Pots on 1st Axle, Mudflap on Back Hopper on both Lead & Rear
Optional: In Front of Brake Pots on All Axles and 3 Ahead of Back Hopper on both Lead & Rear
Fenders
Stoneguards at Front of Lead Trailer
1/2 Round Fenders at Back of Each Trailer: Aluminum or Optional Stainless Steel
3 Tier Pedestal Step at Back of Lead Between Fenders
Impact Guard
Rear Impact Guard with Doepker Logo in ICC Panel
Optional: Custom Name in ICC Panel (Maximum 7 Letters)
Toolbox Size & Style
Optional: Aluminum at Front of Lead or Back of Rear
Placard Holders
Optional: On Each Sidewall – Lead & Rear
Auto Grease System
Optional: Groenveld (CPL) Auto Grease System
Dollie Pad Carriers
Optional: Aluminum On Lead – 1 per side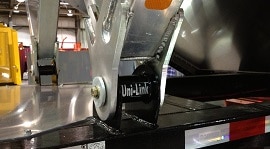 DOEPKER UNI-LINK
The innovative Doepker Uni-Link design provides unbeatable strength.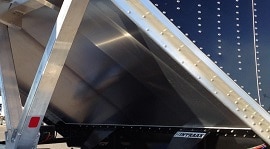 ONE-PIECE ALUMINUM DOUBLE WALL SLOPESHEETS
One-piece aluminum double wall slopes provide excellent cleanout inside and are easy to maintain outside.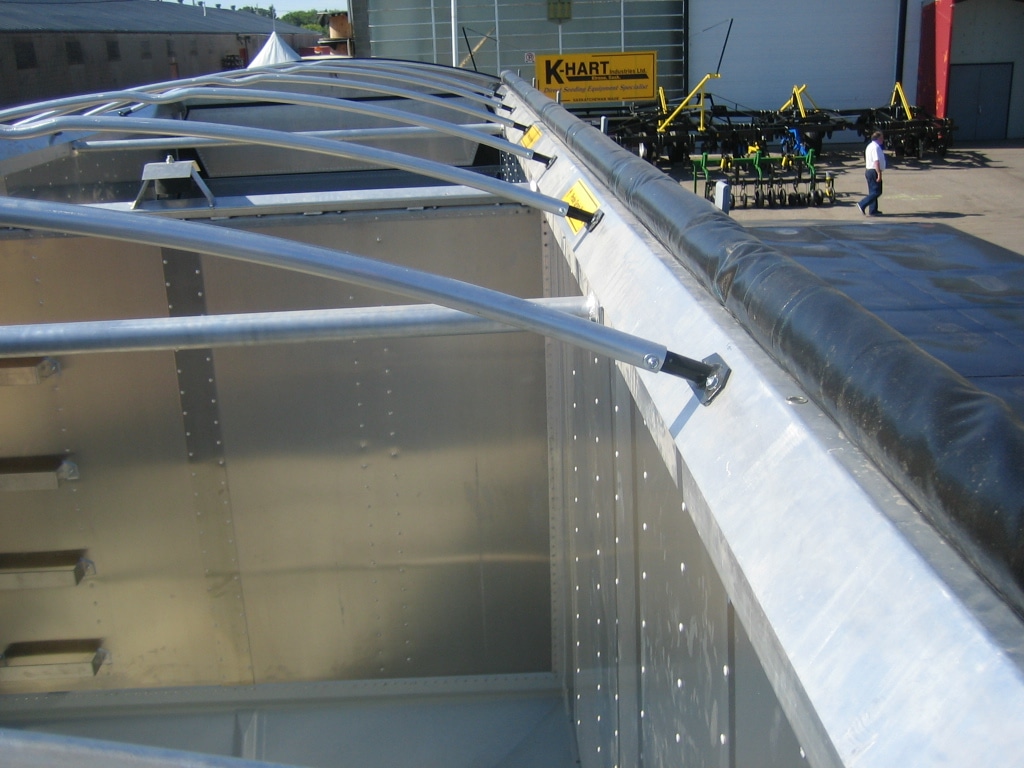 EXTRUDED TOP RAIL
The sloped top rail enhances cleanout – 1 less place for product to hang up in the trailer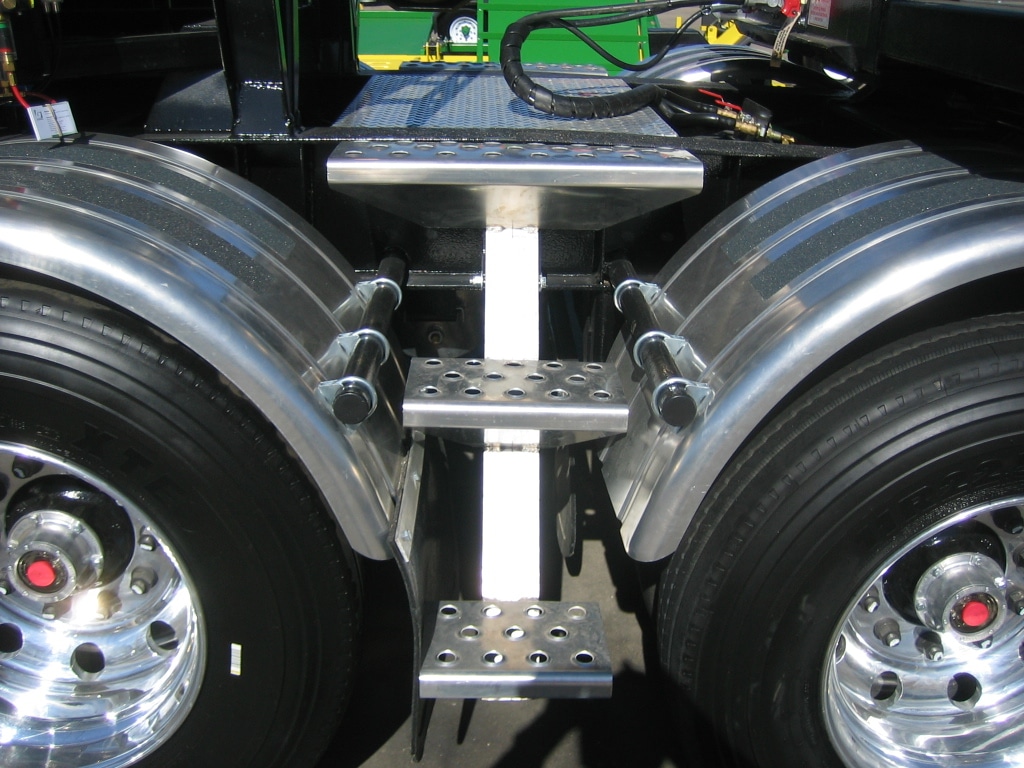 3 TIER PEDESTAL STEP
User friendly and stable 3 tier pedestal step provides easy access between the trailers for tarp operation.
ALUMINUM AIR TANKS
Standard aluminum air tanks not only hold up better and are more appealing over time, they also help eliminate corrosion. This corrosion that is found inside steel air tanks also passes through expensive valving on the trailer. Aluminum air tanks will increase air valve life.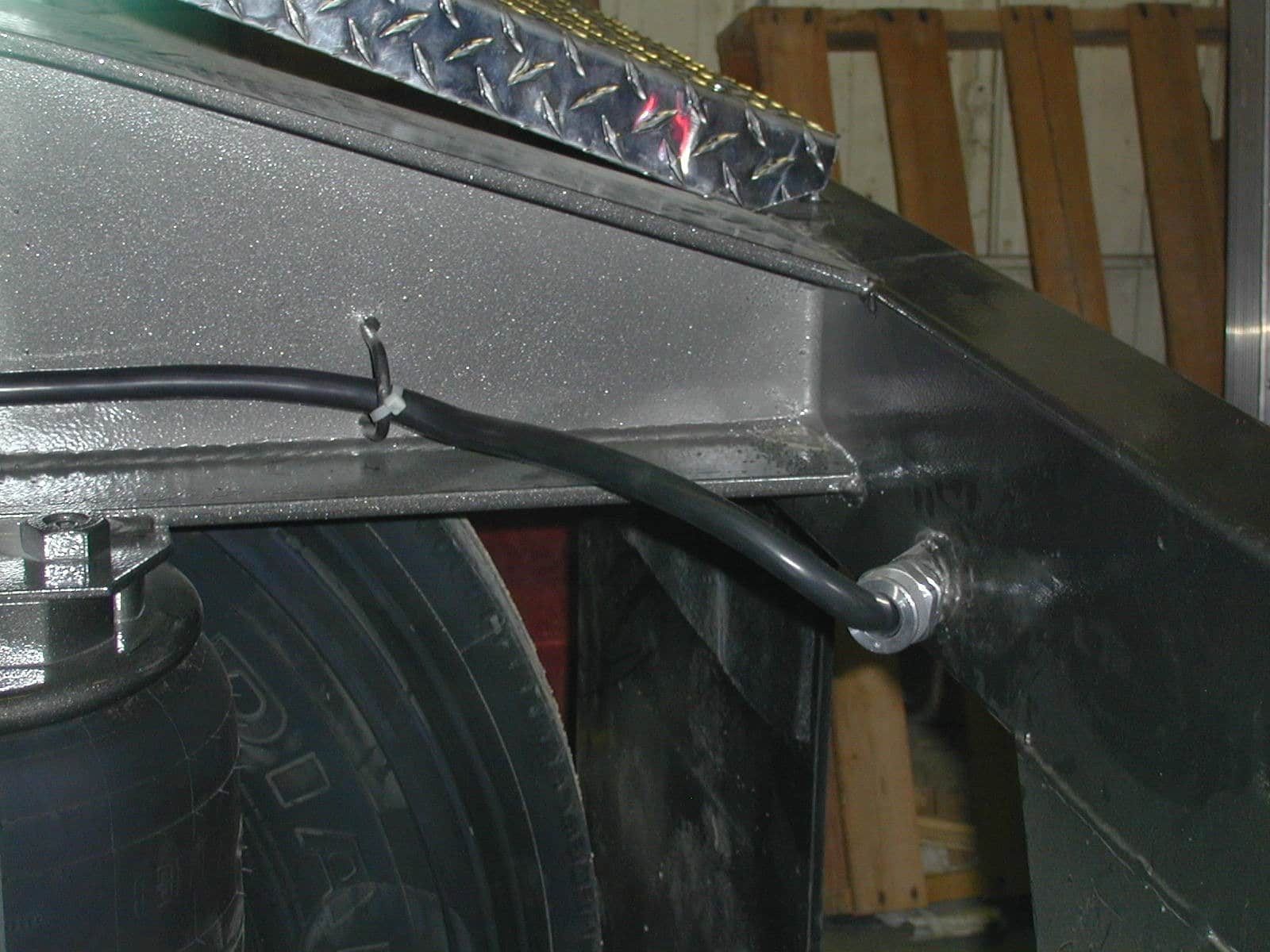 SEALED WIRING HARNESS
Our custom sealed wiring harness specifically made for our Canadian environments ensures optimum life of the wiring on your trailer.